Register Your Child Today for V.o.W. Girls League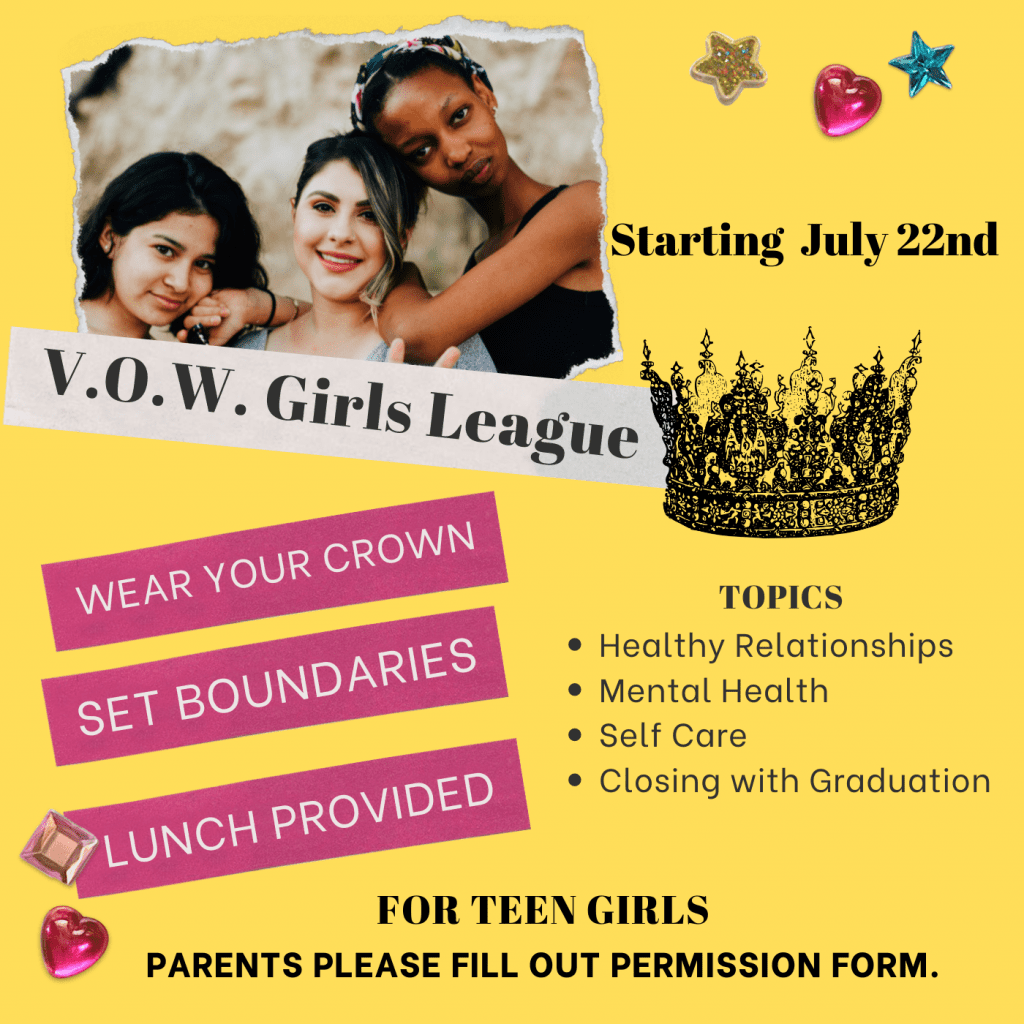 V.O.W. Girls League will begin on Friday July 22nd 2022. We will be serving ages 13 to 16 To register your child                                click the "registration link" below:
April is Sexual Assault Awareness Month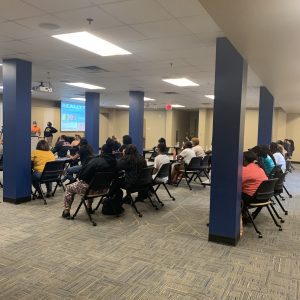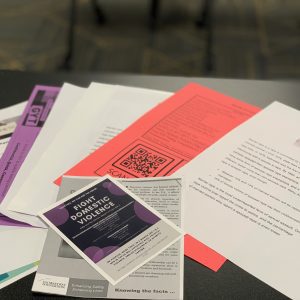 Dear Beautiful People,
Right now more than ever we need your support. We are staying focused to make sure we are providing resources and giving information that is helpful to college students to learn about Domestic Violence,  Sexual Assault, Mental Health, and Sexual Education. Visions of Women has grown into developing a women support group that is not only offering  opportunities for young people to learn and stay educated but also, offering a network, and  trainings locally and nationally. Our group has focused on prevention efforts for 7 years now for men and women to learn and be apart of Visions of Women on and off college campus. We make a difference in the community together. Regardless of who you are Visions of Women stands to share prevention resources with all people. 
This month a college in South Carolina had students marching because of a sexual assault allegation between a student and a faculty member. This was and still is a student concern about their safety.
We urge you to support our efforts to bring campus and community safety. Join our fundraiser below or donate on our donation page. THANK YOU!
Denim Day for 2021 will be on APRIL 28th!!! We encourage you to wear jeans with US and raise awareness toward violence and sexual assault with our Beautiful People Campaign we will post pictures!!!
Denim DAY grew out of a 1998 Italian Supreme Court decision that overturned a rape conviction because the victim wore tight jeans.
For more information visit DenimDay.org.
#ENDRAPECULTURE
Donate to Visions of Women First Fundraiser Event!
Visions of Women is excited about doing a fundraiser with Krispy Kreme.
We are raising funds to go towards Visions of Women programs that help decrease domestic violence through education, support, and leadership for teens and college students. With your help we will have access to give more resources in our community and on college campuses. 
You can purchase a 10 dollar coupon 2 different ways:
PayPal: PayPal.me/vowdcea
Cash App: $VisionsofWomen
Don't forget to add your email address. 
The Hive Community Circle Summit.
Visions of Women welcomed their newest chapter at PC College. We are humbled to continue our efforts in decreasing domestic violence and unhealthy relationships among young adults through education, support, and leadership. The young ladies had a drive to collect toiletry items, mask, and school supplies for Thornwell Children's home. Welcome PC College!!!
Visions of Women LU marked their very first FALS event. Lander University sets forth the Fine Arts and Lectureship Series (FALS) requirement to ensure that all students are exposed to a variety of fine arts.Visions of Women Domestic Violence panel was significant in connecting with the community and offering resources for mental health. We would like to give a special thanks to Megs House and our guest we had for the evening. We love our community and we will continue to make a difference in the lives of young adults by making sure they know how to be in a healthy relationship and know the warning signs of domestic violence.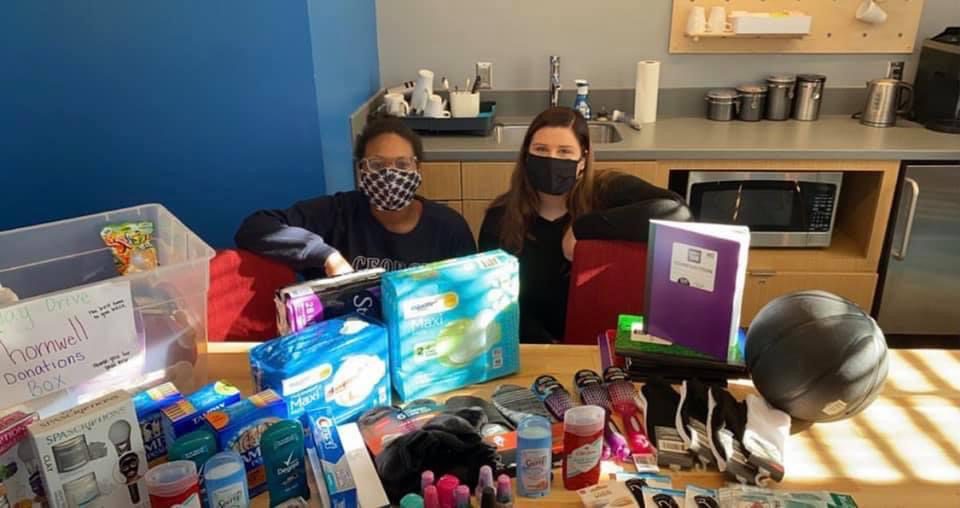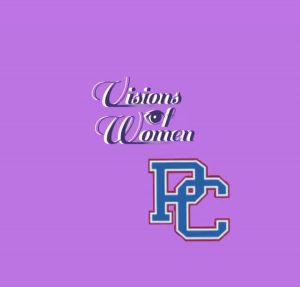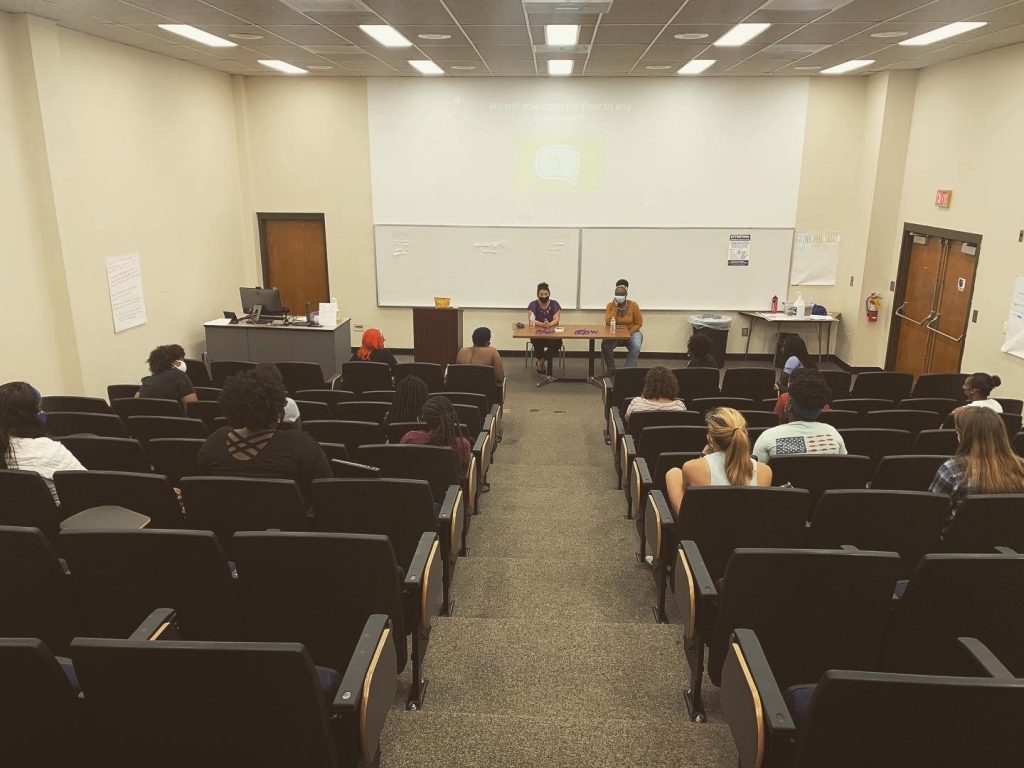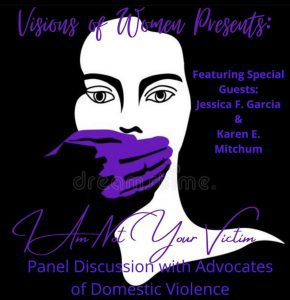 Highlights from Youth Speak Up About Domestic Violence.
We would like to give a special THANK YOU  to those who donated to our nonprofit organization. We could not continue to operate as a nonprofit without you making an investment in Visions of Women so we can continue to reach the youth and talk about healthy and unhealthy relationships, and continue to decrease domestic violence, and teen dating violence. 
Congratulations again to our Scholarship Recipient, Ms. Lakeeva Wilson ( College Student and President of VOW). And our award recipient Dr. Vanessa Dunn Guyton
( Founder of Hush No More, Speaker, and Author) and Ms. Regan Hinson(College Student and Senator of her class). 
We would also like to give a BIG THANKS to those who participated in this event:
Ms. Rodricka Gooch, for being our moderator
Ms. Renee' Cartledge, for speaking on the Take Action campaign 
Mrs. Malinda Searles, for hosting the 101 Domestic Violence Training 
And Mrs. Jalysa Green, for taking time to talk about the Title IX role and giving resources for college students and connecting us with the coordinators and department.
Thank you to all those who could attend we had an awesome turnout with 57 participants who joined both sessions.
We look forward to continue to reach the youth and speak out on domestic violence. Please see pictures below of what we captured during our event.
-Visions of Women Nonprofit Organization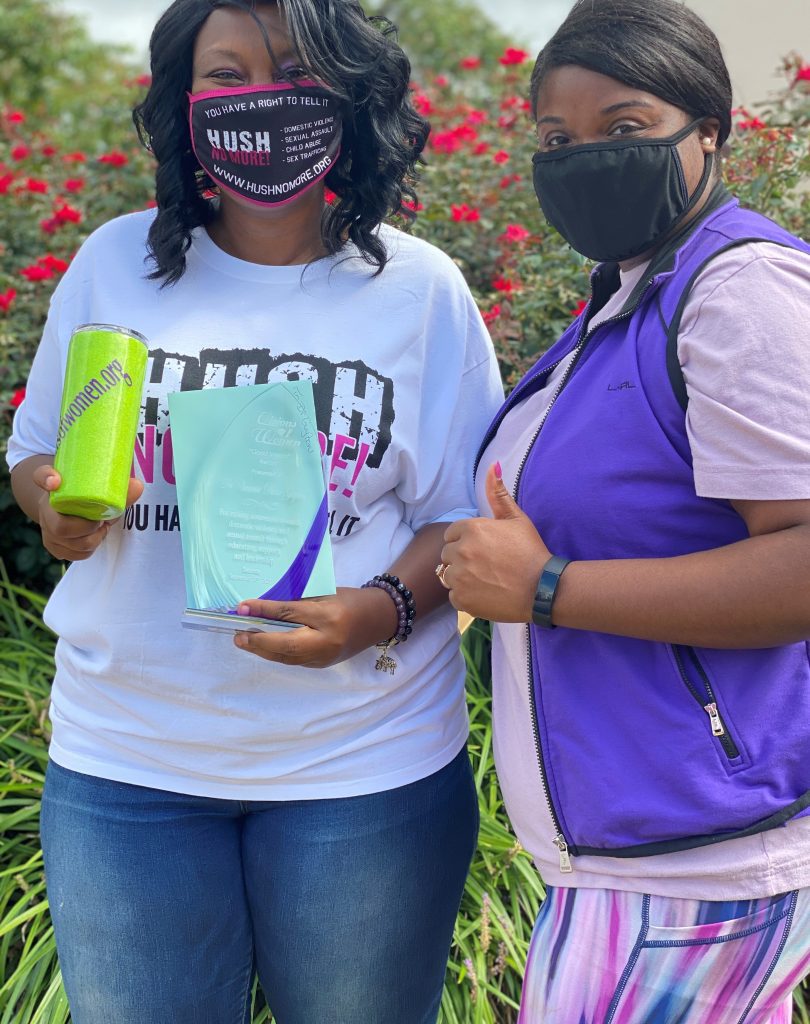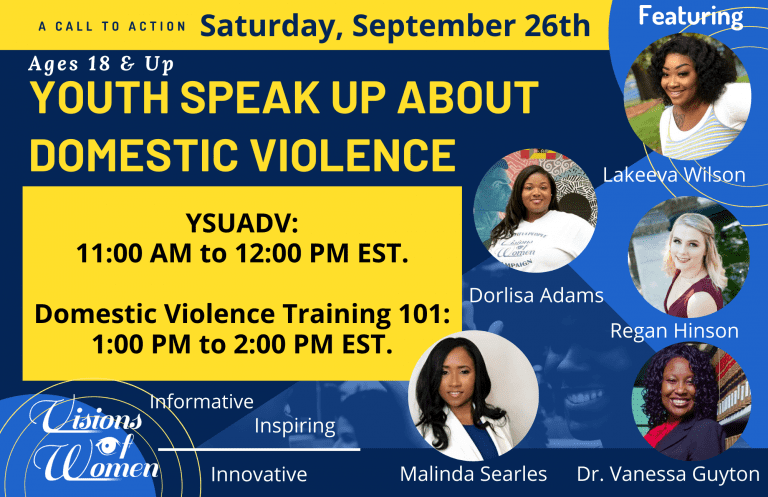 On this day we will have a "Virtual" Domestic Violence 101 Training and A Call To Action "Youth Speak Up About Domestic Violence" for ages 18 and up. Preregister today! Although this event is free please give a donation so we can continue to fulfill our mission. Please get registered here visionsofwomen.org/a-call-to-action/
Affiliate member of SCCADVASA
Exciting news we are officially affiliate members of South Carolina Coalition Against Domestic Violence and Sexual Assault (SCCADVASA). This platform works with individuals, organizations, and other allies to improve services and support survivors of domestic violence and/or sexual assault and to prevent violence in our communities. SCCADVASA Affiliates are public and private organizations, law enforcement jurisdictions, and other entities that engage in secondary or related work to support the mission of SCCADVASA. We are honored to work together and appreciate their collaborative support.  With this platform we will work together to bring change in our community and decrease domestic violence and sexual assault. 
Highlights from V.O.W. Girls League Summer 2o2o.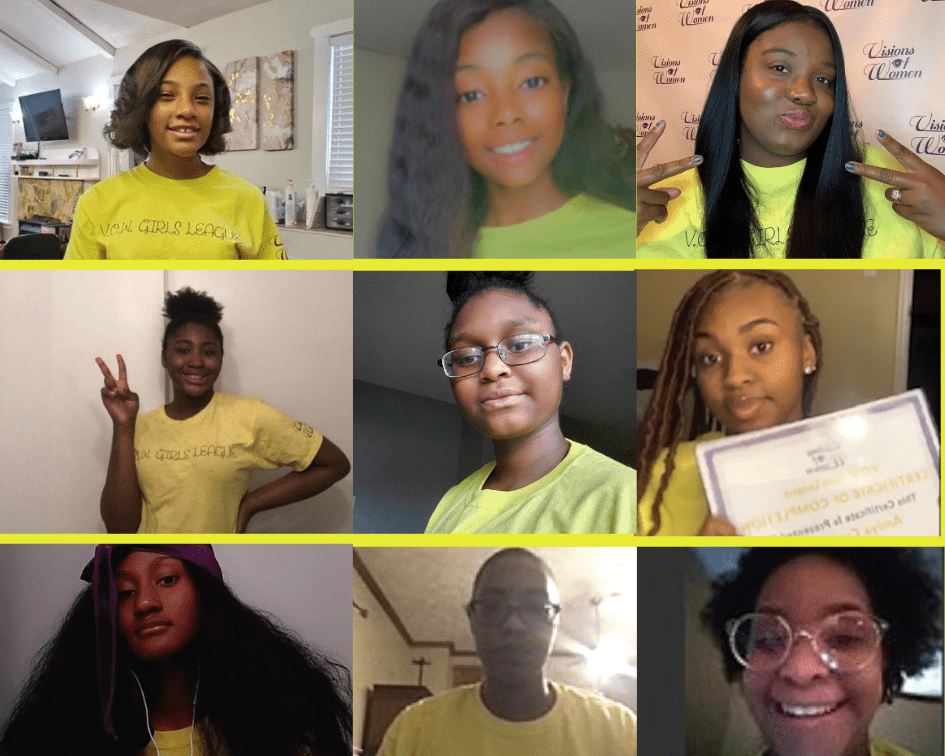 V.O.W. Girls League has ended for the Summer 2020. On Thursday, August 13th we had a closing session with participants who completed the program.  We had 13 girls and 7 completed the program. It takes patience, and commitment from the parent and child to complete V.O.W. Girls League. We would like to thank all of our parents again, for being there helping their child login and participate. We know that everyone's schedule can be busy sometimes. Thanks  for investing in your child. Together as a community we are investing in our children to be educated women who will choose healthy relationships in their lifestyles.
All girls were given a gift bag with their certificate of completion, a personalized cup with their name, a gift card, and some other awesome goodies to wish them an awesome school year. We will check in with our beautiful girls, being mentors to encourage them and see how things are going with school.  We will also give them a chance to join other activities such as all girl conferences that are online. As we prepare for our next session next year keep us lifted and in your thoughts. Support us please so we can continue to have more V.O.W. Girls League Sessions. Donate Today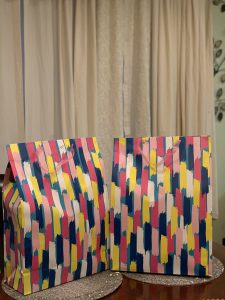 Radio Interview/ Press Play Below.
Visions of Women 2021 Scholarship Information.
Visions of Women gives a scholarship yearly to a college student who has taken the initiative to raise awareness towards domestic violence through education, support, and leadership. The student also promotes healthy relationships. We will announce our scholarship recipient on Saturday, September 25th, 2021.  Please continue to support our scholarship effort by supporting our cause.